So here's the thing.  You have legitimately purchased hundreds of CD's that sit collecting dust in a succession of "really neat" holders and cabinets acquired over the years.  Yet all that music tends to just sit there because, well because it's there, and you are somewhere else.

Assuming that one samples CD music data at a sufficiently high rate (160kps or higher), MP3 files are a convenient way to store music.  The primary benefit is the ability to label, tag, maniputlate, index and otherwise manage one's music.   While you can rip the whole collection to MP3's for convenience, you are still left without the ability to just sit, click, and listen to music when away from the computer.  

Having accomplished the chore of creating an MP3 library though, how do you get the music to play on a decent music system?  The folks at
Slim Devices Inc.
have put together an very elegant and simple device to accomplish just that - the
SliMP3
.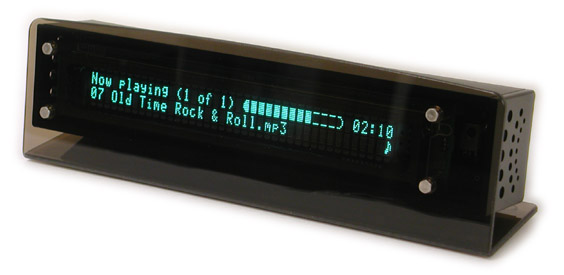 Enter the SliMP3.  An elegant little box that fills the convergence void between stereos and computers.

The SliMP3 has a very simple purpose in life.  It allows you to access your music collection from anywhere you have a LAN connection.  With cheap wireless 802.11b network gear available, that really means anywhere in your living space.

I said "elegant" and it is - only 3 connections to get up and running.  Power comes from a very small external power supply that is multi-voltage and multi-hertz, something unusual from an American outfit.  Standard RCA jacks are provided for connection to a preamp, and there is an RJ-45 LAN port.

The package includes a LAN cable, Sony RM-V201 programmable remote control, batteries, and a minimal instruction manual.  Additional software required is downloadable from the Internet.


This page was last updated on: November 5, 2019